Oh my goodness! I almost finished writing this entry when Firefox just chose to have a problem and chose to not respond! Anyway, I was looking through a bunch of cooking blogs and I saw an amazing recipe for Samoas on Once Upon A Plate! They looked so amazing that I just knew I had to make them! I used the recipe but I switched up the way I made them. So here they are.
Homemade Samoas
(also known as Caramel de-Lites)
Makes about 3 1/2 to 4 dozen
1 cup butter, softened
1/2 cup sugar
2 cups all purpose flour
1/4 teaspoon baking powder
1/2 teaspoon salt
1/2 teaspoon vanilla extract
up to 2 tablespoons milk
Instructions :
Preheat oven to 350F.
I just threw everything except for the milk into the food processor and whirled it around until it looked like bread crumbs. Then I added the milk little by little until it clumped together.
It's easiest to roll the dough out in 2 or 3 batches (between pieces of wax (or parchment) paper to about 1/4-inch thickness and cut out the cookies with a 1 1/2'' cookie cutters. Place on a parchment lined (or on silicone mat) baking sheet and make a hole in the center. I used the small end of a large round piping tip. Reroll as many times as you need to
Bake cookies for 10-12 minutes, until bottoms are very lightly golden brown around the edges.
Cool for a few minutes on the baking sheet, to allow them to firm up slightly, then transfer to a wire rack to cool completely.
Topping:
3 cups shredded coconut (sweetened or unsweetened)
12-ounces good-quality chewy caramels
1/4 teaspoon salt
3 tablespoons milk
8 ounces dark or semisweet chocolate (chocolate chips will do)
Melt the chocolate in a double boiler and dip the bottom half of the cookie in chocolate. Let them set on parchment paper.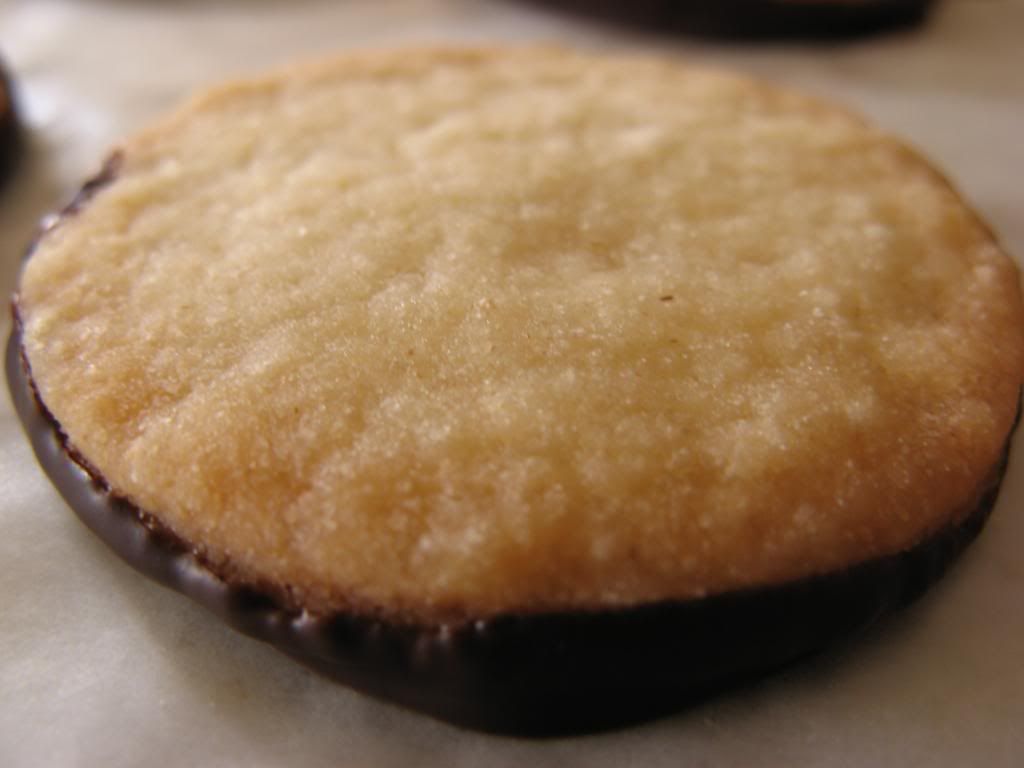 Preheat oven to 300 degrees (F)
Spread coconut evenly on a rimmed baking sheet and toast 20 minutes, stirring every 5 minutes, until coconut is golden. Once it starts changing colors, it goes really quickly so watch it!
Cool on baking sheet, stirring occasionally. Set aside.
Use a double boiler to melt the caramel. You can add the milk before or after the caramel is melted.
Mix in the coconut.
Getting the caramel on the cookies was not quite so fun. I just used two spoons to put on the caramel. Dipping the spoons in water helped for a while.
Mmm... I want some right now! But it's like past midnight right now and I made them like three weeks ago...
Drizzle some chocolate on with a fork.